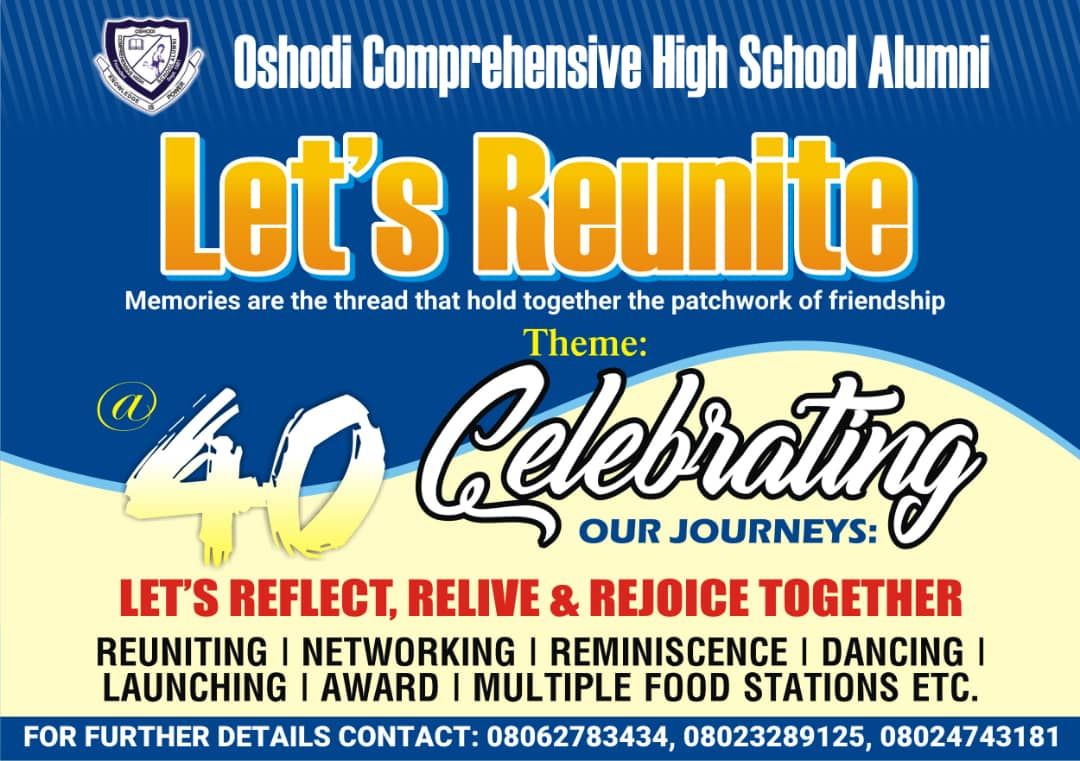 DAY 1:- Thursday 16th December 2021
8.00 am
 Dress code: School uniform
 OPENING CEREMONY:
The National Anthem
The School's Anthem
Welcome Address - The Principals - Mr Akinlosotu Akinmarin (Senior School) and Mr Popoola (Junior School)
Declaring the Event Open - Mr Olufemi Agara Welfare Director, OCHS ALUMNI NATIONAL.
LECTURE: Drug Abuse - Mrs Tosin Akinpelu
Inspection of Projects by the Old Students.
HEALTH TALK - Prostrate Cancer, Cervical Cancer etc .
Medical/ Dental Checks & Free Medics.
LINE UP OF DOCTORS FOR THE DAY:
1. Dr Bakare 'Tubosun( BASMAN) '89
2. Dr AbduFattah Olajobi '89
3 Dr Tony Olekwu '96Set
4. Dr Funmi Mayaki '96
5. Dr Makinde Olalekan 97
6. Dr Queen Oluchi Justice 97
7. Dr. Adeyemi Tope E. '01
DAY 2:-
Friday 17th December, 2021
9.00am
Dress code: Sports wear
SPORTSMANIA EVENTS (Novelty Matches & Entertainment by
cross sections of the old students/ current newbies)
(Availability of First Aid team)
DAY 3: Saturday 18th December 2021 (Grand Finale)
10.00am
Dress code: Ankara material
Welcome Address - Chairman 40th Anniversary Committee, Alhaji Kola Ajani
Welcome Speech - President, OCHS ALUMNI NATIONAL, Otunba Ganiyu Hamzat
Anniversary Theme Review: (Celebrating Our Journeys: Let's Reflect, Relive & Rejoice Together) - Dr Makinde Olalekan
Goodwill Message TG/PS Education District VI - Mrs Oyebisi Oludara Okelola
Presentaton of Awards.
Fund Raising: - Mr Linus Iwuajoku/Mrs Folashade Onakoya
Closing remarks/Vote of Thanks Mrs Ayodele Aarode/Mrs Yusuf Adedoyin Vice President, OCHS ALUMNI NATIONAL & Ms. Christopher Ebunoluwa Social Director OCHS ALUMNI NATIONAL
Get-together/Investiture
ANCHORS
Amaka Nwabeke, Funmi Alaga & Kemi Adebayo