In a landmark election that witnessed enthusiastic participation from Oshodi Comprehensive High School (OCHS) alumni, Tunde Agbejimi has been declared the winner, securing the position of President of the OCHS Alumni Association. The final vote count revealed a resounding victory, with Tunde Agbejimi securing 62 votes, while his opponent, Tokunbo Akintona FCA, garnered 21 votes.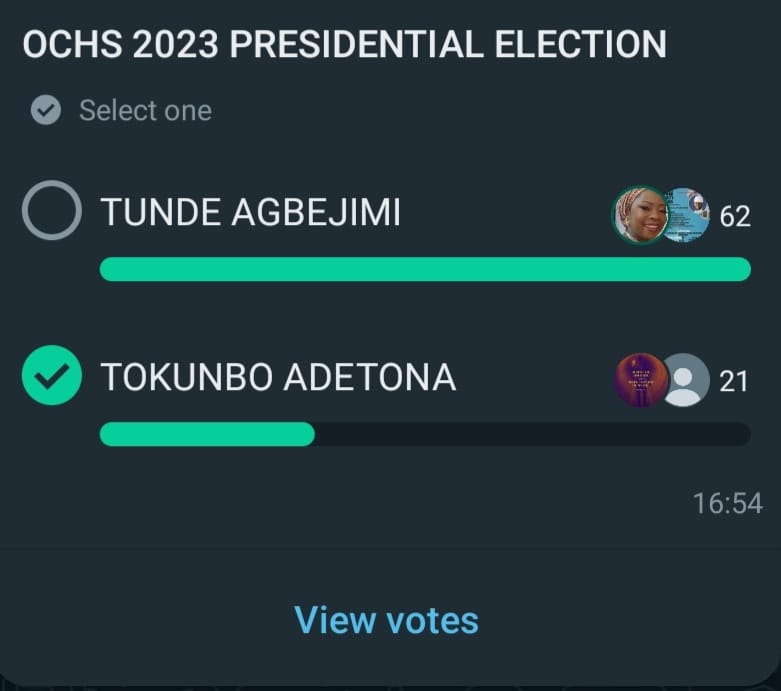 An Electrifying Victory:
The election, held on November 4, 2023, was a pivotal moment in the history of the OCHS Alumni Association. Both candidates, Tunde Agbejimi and Tokunbo Akintona, had presented compelling visions for the future of the association, making the race highly competitive. Alumni members turned out in impressive numbers to cast their votes and influence the course of their beloved association.
Tunde Agbejimi's victory by a 62 to 21margin reflects the overwhelming support he garnered from the alumni community. His dedication to fostering unity and progress within the alumni association, coupled with his track record in community engagement, clearly resonated with the voters.
A Promising Future:
As the President-elect, Tunde Agbejimi will now assume the mantle of leadership within the OCHS Alumni Association. His vision and passion for the alumni community's growth and development will guide the association in the coming years.
The newly elected President will work closely with the association's executive committee to implement his vision and take the OCHS Alumni Association to new heights. Alumni can anticipate exciting initiatives, increased community engagement, and enhanced support for OCHS in the years to come.
A Bright Future Ahead:
The OCHS Alumni Association's election results mark a new beginning for the alumni community. Tunde Agbejimi's victory symbolizes a collective commitment to unity and progress, reflecting the values instilled by OCHS.
As the dust settles after this spirited election, alumni members are looking forward to a promising future under President-elect Tunde Agbejimi's leadership. The OCHS Alumni Association is set to embark on a journey of growth, unity, and achievement, building on the strong foundation laid by its members.
For further updates and information on the OCHS Alumni Association's future endeavors, please visit the official association website or reach out to the newly elected President, Tunde Agbejimi.
Congratulations to Tunde Agbejimi on his well-deserved victory, and may the OCHS Alumni Association thrive under his leadership!